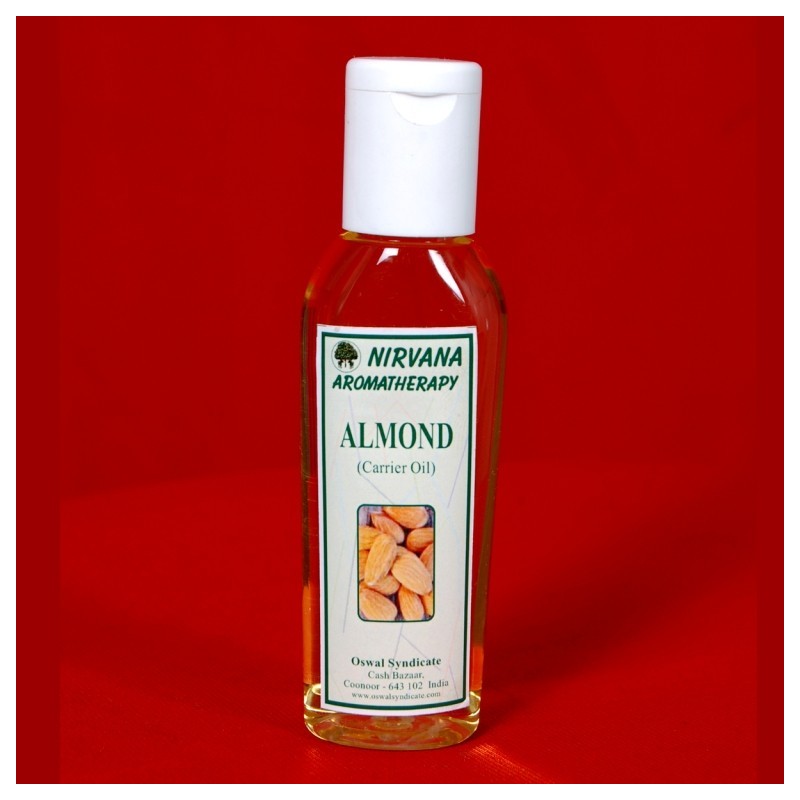  
Almond Oil
Sweet almond massage oil won't clog pores, which makes it an effective facial moisturizer.  almond oil reduces irritation from itchy skin, psoriasis and mild eczema.
Security policy
Secure Payments By Direcpay & CCavenue
Delivery policy
Orders Shipped Within 3 to 5 Days From The Order Date
Return policy
10 Day Return Policy
Almond Oil: A Multi-dimensional Health And Beauty Supplement
Discover the magic of our exceptional Almond Oil, a multi-purpose natural product that stands as a testament to the incredible healing and nurturing power of Mother Nature. Sourced from the finest orchards, our Almond Oil is cold-pressed to preserve its potent nutritional content. A single bottle of this nutrient-rich oil provides countless benefits, making it an essential addition to every health and beauty arsenal.
Unlock Nature's Best Secret
Almond Oil has been a well-guarded beauty secret of ancient civilizations. Rich in vitamins E, A, and D, Omega-3 fatty acids, antioxidants, and zinc, our Almond Oil nourishes your body from the inside-out, leading to glowing skin, healthy hair, and overall wellness. It aids in reducing signs of aging, promotes hair growth, heals dry skin, and significantly enhances your overall appearance.
Boost Your Skin's Health
Want to bid adieu to the signs of aging and welcome radiant, youthful skin? Our Almond Oil does exactly that. It deeply hydrates and nourishes your skin, improves complexion, and reduces the appearance of fine lines and wrinkles. Loosen the chokehold of dry skin conditions, like eczema and psoriasis, with Almond Oil's moisture-sealing properties. Thanks to its anti-inflammatory and emollient qualities, it soothes irritated skin and locks in the much-needed moisture.
Bring Life Back to Your Hair
Let your hair feel the love it deserves. Almond Oil is a one-stop-solution for all your hair woes, ranging from split ends to dandruff. The natural fatty acids and vitamins in the oil promote hair growth and add a lustrous sheen to your locks. By moisturizing dry scalp, it reduces scalp inflammation and dandruff, leading to healthier and softer hair.
Capture the Power of Almonds in Every Drop
Infuse your culinary adventures with a touch of health and flavour. Almond Oil is a delicious addition to your cooking recipes, enhancing not only the taste but also your overall health. Its healthy monounsaturated fats, protein, potassium, and zinc offer a comprehensive health package, resulting in enhanced brain function, stronger bones and muscles, better heart health, and improved digestion.
Quality That Speaks for Itself
Your health and satisfaction are our top priorities. That's why we bring you the highest quality product. Our Almond Oil is pure, unrefined, and free from any additives or fillers, ensuring that you get absolutely the best from each drop. It's vegan, gluten-free, and GMO-free, making it a perfect choice for any lifestyle.
Revive Your Health and Beauty Regimen Today!
Indulge in the luxury of pure Almond Oil. Embrace the prettification and healthifying journey with a product that is a natural, nutrient powerhouse. Take the first step towards reviving your health, beauty, and well-being with our irresistible Almond Oil. Make space in your home for a product that's worth every penny, and you would wonder how you did without it for so long. Buy now!
No customer reviews for the moment.