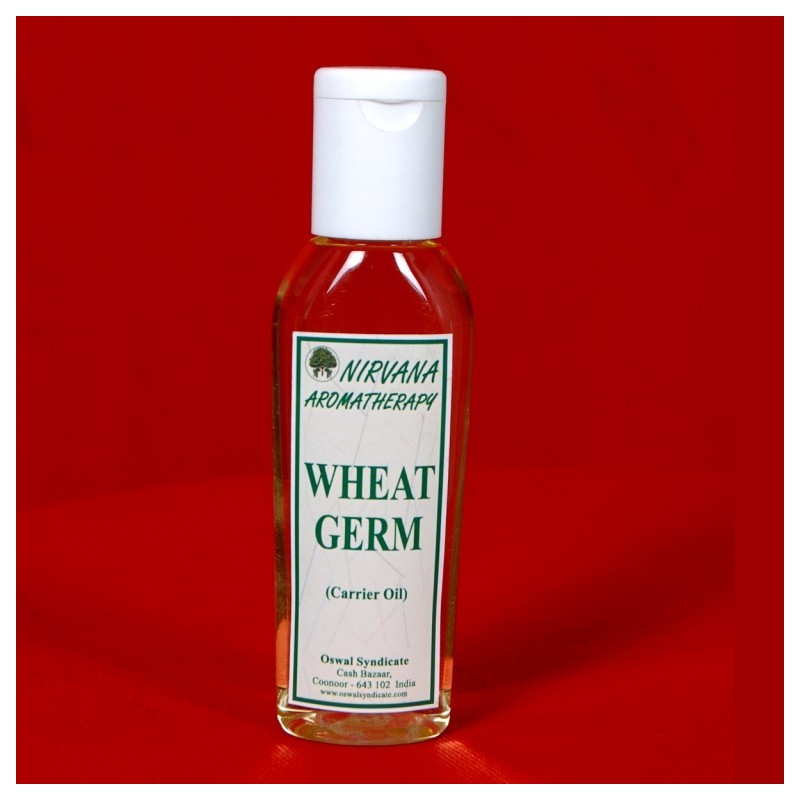  
Wheat Germ Oil
Wheat-germ oil is derived from wheat germ,Wheat germ is the most nutritious component of the wheat kernel and is well-suited to moisturizing and soothing the skin.
Security policy
Secure Payments By Direcpay & CCavenue
Delivery policy
Orders Shipped Within 3 to 5 Days From The Order Date
Return policy
10 Day Return Policy
Experience The Power Of Wheat Germ Oil
Unlock everything nature has to offer with our premium-quality Wheat Germ Oil. This incredible product is a genuine treasure trove of natural beauty and health benefits. Its impressive nutrient profile contributes to its rapidly soaring popularity as a standout among other essential oils and natural supplements. Moreover, it's carefully sourced and meticulously processed, ensuring optimum potency and effectiveness.
Why Choose Our Wheat Germ Oil?
Our Wheat Germ Oil offers superior quality and purity that's unmatched. The profound health benefits of this product are tied to its high concentration of essential nutrients like Vitamin E, Omega-3, and Omega-6 fatty acids, all of which your body cannot produce on its own, but rather, acquire through consumption.
Supports Balanced Nutrition
Wheat Germ Oil has a unique nutritional profile that makes it particularly beneficial for health conscious individuals. By incorporating it into your daily routine, you could bolster your nutrient intake and support a balanced diet, a powerful move towards ultimate health and wellness.
Promotes Youthful Skin
The abundant presence of Vitamin E in our Wheat Germ Oil supports youthful skin, enhancing its elasticity and reducing wrinkles. It also aids in maintaining an even skin tone by reducing hyperpigmentation and dark spots. This way, you're not only improving your internal health but also boosting your outer glow. Truly, our Wheat Germ Oil is beauty in a bottle!
Boosts Hair Health
Rich in several essential vitamins and minerals, Wheat Germ Oil can help your hair retain its natural moisture, promoting luscious, shiny, and healthy-looking hair that truly stands out. You can use it as a conditioner or incorporate it into your hair care regime for the best results.
Improves Heart Health
Thanks to the Omega-3 and Omega-6 fatty acids, Wheat Germ Oil plays a significant role in heart health. Regular consumption can aid in reducing bad cholesterol levels, thus supporting overall cardiovascular health.
No Artificial Additives
Our Wheat Germ Oil boasts of being 100% pure and free from all kinds of additives or artificial preservatives. It's unrefined, organic, and non-GMO, ensuring you receive all of the oil's nutritional benefits in their most pure, unaltered form. This makes it ideal for those seeking a clean, conscious lifestyle.
Easy to Use
Wheat Germ Oil is versatile and easy to incorporate into your daily routine. You can add it to your cooking, use it as a salad dressing, or include it in your beauty regime as a skin or hair conditioner. The possibilities are endless, exciting, and revitalizing.
The Perfect Addition to Your Health Regime
In summary, our Wheat Germ Oil is the perfect accompaniment to a healthy lifestyle. It offers multiple health benefits while being entirely natural and adaptable to a variety of uses. Acclaimed for its nutritious properties and the raft of benefits it brings to hair, skin, and overall health, our Wheat Germ Oil is certainly worth adding to your shopping basket. Experience the magic it can do to your life starting today!
No customer reviews for the moment.