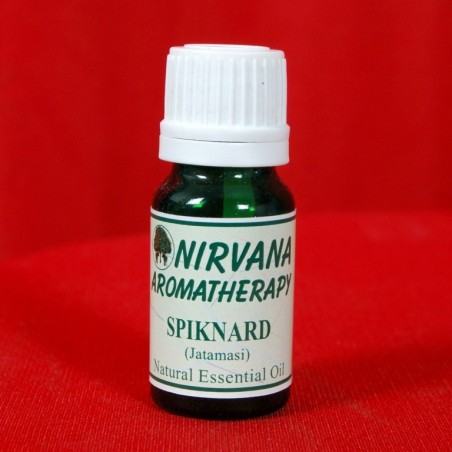  
Jatamansi Spikenard Essential Oil
Jatamasi Spikenard Essential Oil
Spikenard (Nardostachys grandiflora or Nardostachys jatamansi; also called nard, nardin and muskroot ) is a flowering plant of the Valerian family that grows in the Himalayas of China, India and Nepal
Security policy
(edit with the Customer Reassurance module)
Delivery policy
(edit with the Customer Reassurance module)
Return policy
(edit with the Customer Reassurance module)
Jatamasi Spikenard Essential Oil
Spikenard (Nardostachys grandiflora or Nardostachys jatamansi; also called nard, nardin and muskroot ) is a flowering plant of the Valerian family that grows in the Himalayas of China, India and Nepal. The plant grows to about 1 m in height and has pink, bell-shaped flowers. Spikenard rhizomes (underground stems) can be crushed and distilled into an intensely aromatic amber-colored essential oil, which is very thick in consistency. Nard oil is used as a perfume, an incense, a sedative, and an herbal medicine said to fight insomnia, birth difficulties, and other minor ailments.
The oil was known in ancient times and was part of the Ayurvedic herbal tradition of India. It was obtained as a luxury in ancient Egypt, the Near East, and Rome, where it was the main ingredient of the perfume nardinum. Nard was used to perfume the body of Patroklos by Achilles in Book 18 of Homer's Iliad. Pliny's Natural History lists twelve species of "nard", identifiable with varying assurance, in a range from lavender stoechas and tuberous valerian to true nard (in modern terms Nardostachys jatamansi).
Spikenard oil can be effective for tension, stress, migraine, nervous indigestion and insomnia. It seems to have rejuvenating qualities especially for the mature skin, and can help with allergies, skin inflammations and rashes.
Some ways in which to use Spikenard Essential Oil:
For rough or wrinkled skin, try diluting a few drops of Spikenard essential oil with olive oil and apply as a natural moisturizer.

Blend 50% Spikenard essential oil with 50% olive oil and apply on location for hemorrhoids. (Your first application may sting initially.)

For help with cholesterol, apply 2-4 drops of Spikenard essential oil on wrists, inside elbows, or at the base of the throat two or three times daily.

Apply 1-2 drops of Spikenard oil on your forehead, temples and mastoids (the bones just behind your ears) to help vitalize your brain.

To soothe the tummy, apply a few drops of Spikenard oil on the stomach for indigestion or nausea.

Wear a couple drops of Spikenard oil as perfume and/or use as a deodorant.

To disinfect place a drop or two on the wound to speed up healing.
Spikenard is considered non-toxic, non-irritant, and non-sensitizing, and is closely related to common valerian (Valariana officinalis) with which it shares many of its sedative and tonic properties. It was traditionally used to anoint persons of high honor due to its expense and is considered to have spiritual applications for blessing and protection.
No customer reviews for the moment.
16 other products in the same category: